Hello,
I recently saw a mini fpv course at the London Comic Con. Looked very exciting so I have managed to come by an Aurora90 and Taranis Q7 (Goggles on the way from unmanned tech).
I managed to get a couple of flights and all seemed good. However I have turned on this morning (a few days after the working flights) and I can't get the thing to trigger. In between working and not working flights I have added an SD card with sounds to the Q7, and hooked up to BetaFlight a few times (I don't think I hit save at any time, but who knows).
I hooked it up to BetaFlight (3.2.0) after it wasn't working and the receiver configuration looks to be where the fault lies.
(1) The receiver page looks like this: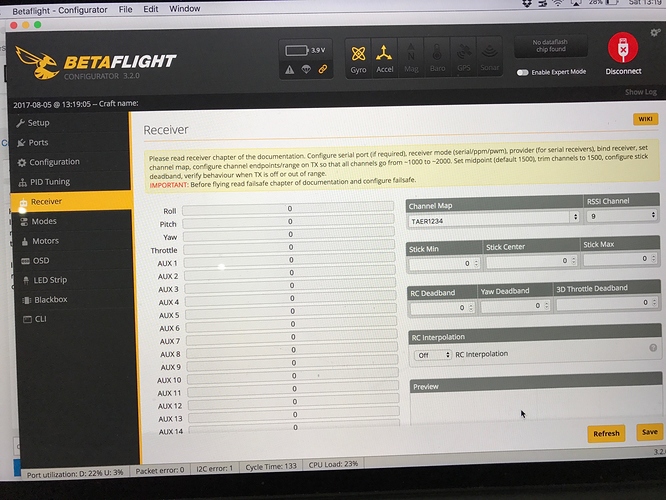 There are no coloured bars.
(2) Looking at the serial configuration I have UART3 set to serialRx:
(I was going to put a pic here of port configuration, but new users can only post 2 pics!)
(3) The Receiver configuration is set to "serial based receiver". But the provider keeps being reset to "spektrum1024" (which I assume is where the problem is). Whenever I save and reboot it never seems to hold the "SBUS" setting which I think I need.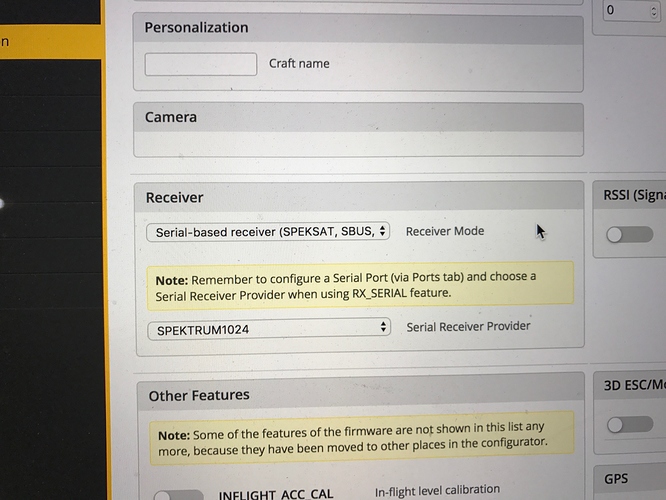 If I change other configuration (like LED strip) the configuration appears to persist.
I have visually looked at the solder joints for the 3 connectors between the frSky receiver
board and the Minicube F3 Flight Controller and it looks ok (but I haven't got the multimeter on it yet).
Can anyone suggest what maybe wrong with the configuration saving and even if I am on the right track with the SBUS thing. The Tx informs telemetry lost/recovered when I plug and unplug the quad.
Any help will be much appreciated,
Dave.