Hello all,
New to forums, new to FPV, Some experience with Hubsan x4 mini drone.
So recently I picked up the RTF version of the Emax Nighthawk Pro 280 because I wanted to explore FPV more (After modding my Hubsan heavily to FPV) I thought this would be a great start. In retrospect, I think it's a bit too big, but that's a topic for another day.
My issue is this; PID tuning. I've flown the Nighthawk a handful of times LOS. When it hovers, it has a slight rocking/oscillations, which I found through research could be the PIDS. (I'm aware it could be motors, unbalanced props and other stuff, I've already gone down those routes).
Stock PID's: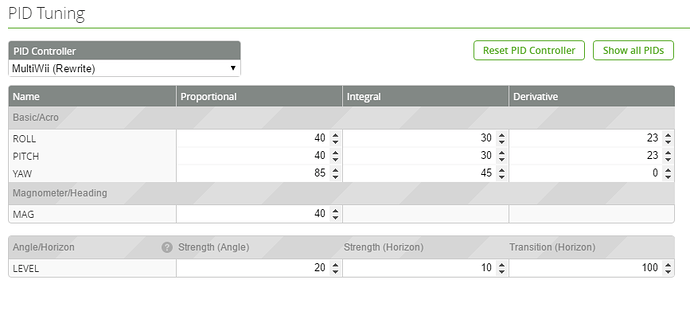 So I booted up Cleanflight and put Gtune on. I've tried this with both Horizon mode on with Gtune, and Acro mode + Gtune. After flying around for around 3-5 minutes, it seemed to be flying differently. Okay, great! Gtune is doing it's thing.Except when I take it out of Gtune and put into Angle/Horizon, it just shakes a lot. A lot more than before! Here's that it basically did:
Gtune PID's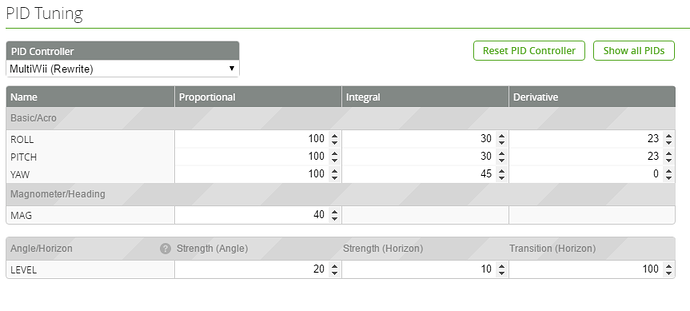 Okay? Yaw seems good because it yaw's very slowly! So after nosying around the internet for a while, I kept seeing people having PID values of "4.3" or "0.011" and similar.
So firstly, why are mine this absurdly high compared? Is it because I'm being a derp? Or becuse it's a different board/FC/something else?
Secondly, what would you all recommend as PID values for the Nighthawk? The stock ones seem relatively okay, but the quad is a little jittery and doesn't feel dialed in.
Thanks, Bill.