I am a complete noob when it comes to drones, as this is literally my first time owning one - so please pardon my ignorance on the subject!
I've recently bought the following kit from unmannedtech.co.uk
https://www.unmannedtechshop.co.uk/zmr-250-mini-diy-quadcopter-kit/
As the list explains, the kit contains the following:
ZMR250 carbon fibre quadcopter frame
4x 2400Kv Brushless motors
4x 12A SimonK ESC
4x 5030 Propellers
1x CC3D Open Pilot Flight Controller
1x Power Distribution Board
I am powering my kit with a 3 cell 75C 1300mAh battery. Since the kit does not contain a transmitter and a receiver, I bought FlySky FS-i6X transmitter to be used with a ParkFly FS-IA6 receiver. I have watched their instruction videos frame by frame and went over them one more time after finishing the installation just to make sure.
However, I am having a serious problem now. I got it working, the blades turn and all but as soon as it starts lifting off the ground, it starts wobbling wildly and usually flips to its side. I've recorded the following videos to explain it better. Please see them…

Another thing, I've come to realise that the installation video shows different connections (order) to the receiver than what I ended up doing, because when I did the order they show in the video, I get completely different behaviour from my sticks from the transmitter on the drone. Please see the image of my connection as well.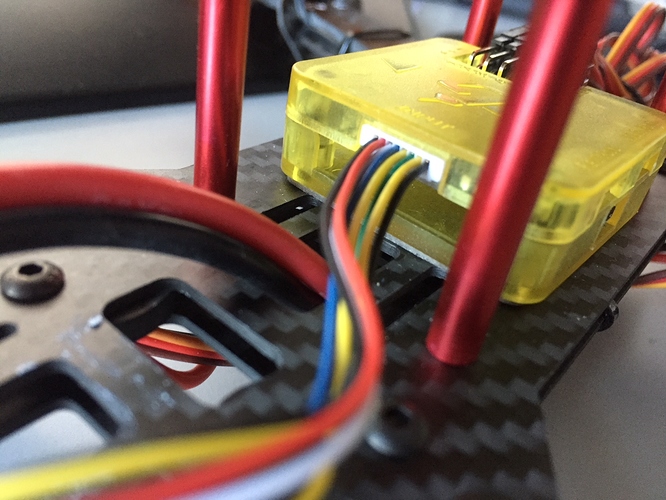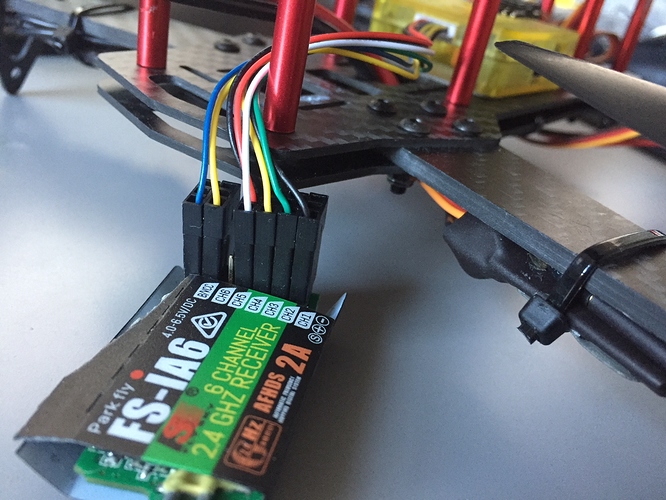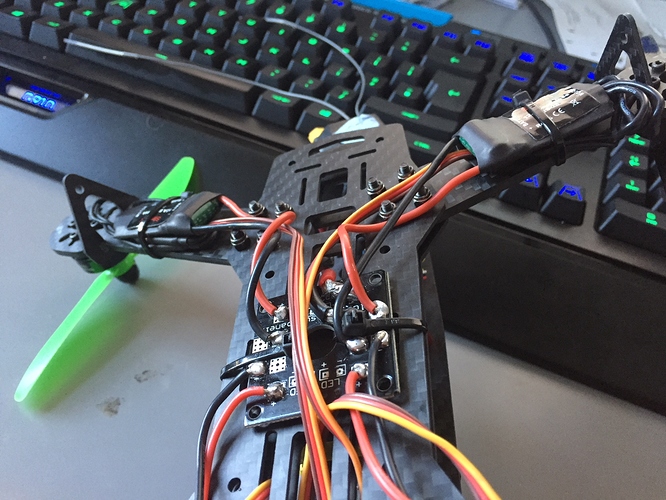 I also do not think it is a balance issue, because pretty much everything is centered and I could not feel any balance problems when I held the drone in my hands.
I am also sure that the motors are placed in correct places, as well as propellers go to the correct motors. I've triple checked that. Another thing I've done is to place the ESC's under the arms, rather than top because the electric cables that comes from the power distro board was too short.
One final thing to mention is that I've updated the firmare of the CC3D and configured the FC and the controller inputs from LibrePilot. This includes calibrating the sensors. I've already broken 2 propellers whilst testing this, and I have no idea what I am doing wrong. Anyone has any ideas?
Many thanks!