If you have purchased a shiny (and fast) crusader GT2 2017 kit, it ships with the latest betaflight 3.1.7 firmware (as of the time of writing this article). However, for whatever reason, you may want to update, or reflash the firmware. THis is usualy straightforward within betaflight, but since the Diatone fury F3 OSD flight controller is a custom board, it is not in the dropdown list (for now).
Soon you will be able to select the FURYF3OSD board from the dropdown (from betaflight 3.2…). Then you just flash the board as usual, and.dont need to manually download the firmware from diatone. However it is still a good idea to check out the downloads page as it includes custom settings and PID for the GT2 stretch and normal versions.
For now you can also follow this process to flash the beta version of betaflight 3.2 to be on the cutting edge (accept the risk of flying a non stable release of the firmware)
Booting into DFU mode
Before you update firmware, you need ot boot your FC into bootloader mode… To do this you need to hold to boot button down while applying power. Once this is done you should see a STM32 DFU device in your windows device manager.
If you cant flash firmware in betaflight, then it is likely you dont have the correct DFU drivers installed, so all you need to do it run the impulseRC driver fixer while the board is connected to your PC in DFU mode.
Flashing a manual Target if the built in firmware flash fails
For now you just need to download the precomiled firmware file (.hex) from diatone directly. While here you should also download the GT2 2017 settings file (for the custom PIDs etc…)
Download the Fury Flight control Firmware, within this file you will see a bunch of .hex files with the betaflight version… at the time of this post you can flash either 3.1.7 (stable) 3.2 (cutting edge, but potentially has bugs)
In betaflight, on the firmware flasher tab, select (Load Firmware [Local]) and then select the .hex file you download before.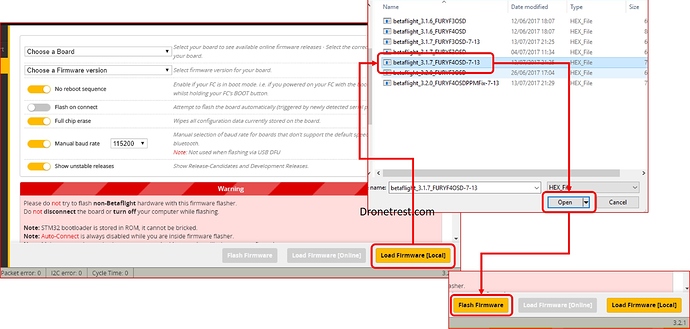 Once selected the Flash firmware button will turn yellow so you can start to flash it just like with any other FC.
Update: just found a nice video showing this process if you prefer video format