Hi all!
So, I completed my drone build a couple of days ago, and when I decided to go on my maiden flight, it wouldn't get off the ground.
What perplexed me is, in theory it should have more than enough thrust to take off. The all-up-weight is 2.65kg with two 4S LiPos (I even tried with a single LiPo to reduce weight, still no luck) and the total thrust should be in the region of 4.4-5kg for four 380KV motors and 16 inch props. I made sure to use 14AWG throughout the quad with good solders so wiring can't be the issue. Here is the video below:
And these are the thrust charts for the Sunnysky 380KV motor: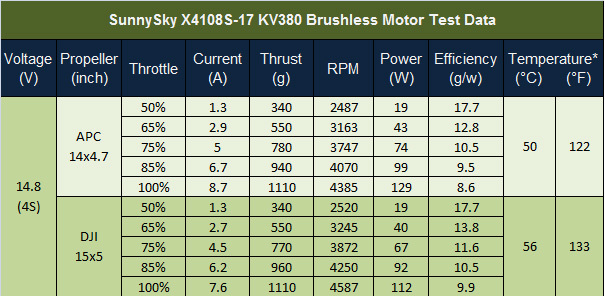 My question is, what can I do to resolve the issue? I have tried resetting the THR_MAX value in MP to 1000. The props are 38g each, should I replace them with some lighter 17" ones? Is the ESC at fault? This has been a real head-scratcher, any help will be highly appreciated. Thanks in advance!