Interested in purchasing the DJI S900 without the associated price tag? It's a good product but there are definitely some alternatives out there that you should explore that can match the DJI S900 for functionality, but under-cut it for price. We look at one particular alternative here.
FH800 FOLDING HEXACOPTER FRAME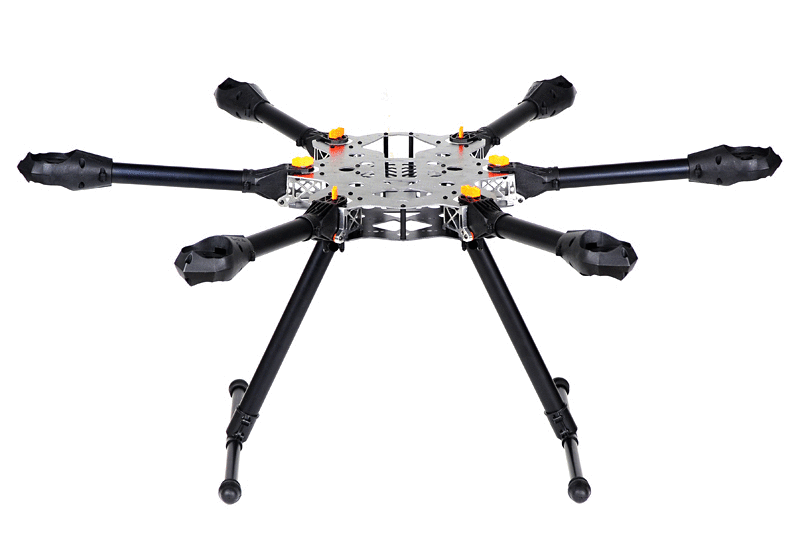 So, the alternative explored here is the FH800 frame. Now, some people may see this as a disadvantage but this is a build-it-yourself drone. Personally, I think this is a major advantage for anyone interested in this field as it is not only more fun to built your own drone, but you also gain invaluable knowledge whilst building. You gain knowledge on how to complete your own build for any future projects you may undertake, and by going through this procedure, you learn all the details of your hexacopter. This means that if you encounter any problems later on, you are much more easily able to overcome them than if you just buy a ready-to-fly drone straight out of the box.
A particularly cool feature of the FH800 hexacopter is that there is a dual layer of motor mounts on each arm. This means that you can attach 6 extra motors onto each arm underneath the original layer, resulting in a 12 motor monster with increased thrust allowing for extra payloads. This is a feature the DJI S900 does not have.
Now, the obvious advantage of the FH800 frame over the S900 is the price difference. So I'll break it down for you. The cheapest UK seller price that I've found for the DJI S900 is around £990. Now this includes the frame, 6 motors, 6 ESC's, 6 propellers and retractable landing gear. Initially, this may seem a fair price for all those goods but I can show you that you can buy these parts separately for a much reduced price. Please note that the following products are not identical to the products found in the DJI kit but carry out a similar job.
The Full Alternative Kit
The Frame:
The FH800 Hexacopter frame pictured above is currently priced at £159.50. Some features of this frame are explained above.
The Motors
Suitable motors for this frame are the MT3515 motors that come in at £27 each and so in total, you would spend £162.
The ESC's
You need ESC's for those motors, and if you use a 4S 6000-10000mAh battery, then these 30A ESC's will be sufficient. These are £11.95 each and so the total price would be £71.70. If you move up a battery size, you may need to use 40A ESC's.
The Propellers
Power Distribution Hub
In order to route the power from your batteries to your ESC's you will need to use a power distribution board. These are relatively cheap, and the power distribution board that I suggest is great as it includes two voltage regulators that you can use to power LED lights, or your FPV gear that run on a lower voltage. This is priced at £4.99. As a note, depending on the type of battery you are using, you might want to include some battery connector cables.
The Retractable Landing Gear
Since the FH800 frame includes a pair of fixed landing gear, this is an optional addon. When buying a set of retractable landing gear just make sure that the max loading weight will support the total weight of your setup. Currently unmanned tech only sell retractable landing gear up to 4Kg loading which might be ok for this frame, but I would not suggest you do this. On average you should be able to find a decent set of legs for around £150.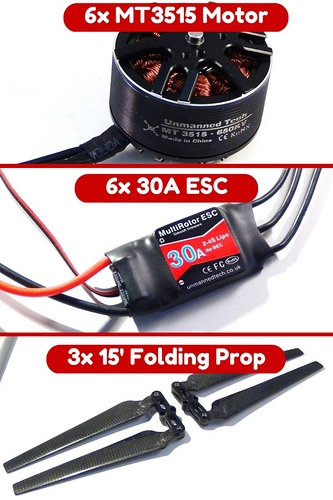 Conclusion
All in, the alternative kit would cost you around £450 (£600 with retractable landing gear) which is a significant difference on the DJI S900 which would set you back £990 if not more; that's over £400 saving. Not bad eh? Plus you get the same quality of hexacopter and you get to build it yourself. And if you want, you can still use the DJI WKM autopilot system and a zenmuse gimbal with this frame and still come in cheaper than the DJI S900 kit.
What do you think? Do you have any other alternative setups that you can suggest?