This is a short guide of the Skyline 32 flight controller for people who are new to the board. The Skyline 32 flight controller is the equivalent to the Naze32+ and is designed by Emax for the Nighthawk series. You can therefore follow our Naze 32 guide for most of the key information but some aspects are slightly different (mainly the pins). We'll jump straight into an example setup for the Skyline 32 board below.
Typical Skyline 32 Connection Diagram
Here is a typical setup including the Skyline 32 flight controller. One thing to note on this diagram is the orientation of the flight controller. You will notice that the flight controller is shown rotated by 90 degrees from the normal orientation (as shown below). We have done this as we have found that the USB port is inconveniently placed on the board when installed on your quadcopter (it's at the back of the board and so you have to take the frame apart to some degree in order to access the USB port). We therefore thought it was a good idea to mount it on its side so you can access the port easily in the future.
Another thing to note is the powering system of this board. We demonstrate powering the board through the use of a 5V/GND wire here (from the 5V pins on the PBD to the input rail on the Skyline 32). You can either power your board through this method or through an ESC with BEC but most mini quad ESCs don't include BEC as standard as this can result in unwanted interference.
If you have any questions about this setup, please comment below.
Skyline 32 Flight Controller Pinout
Below is the general pinout diagram of the Skyline 32.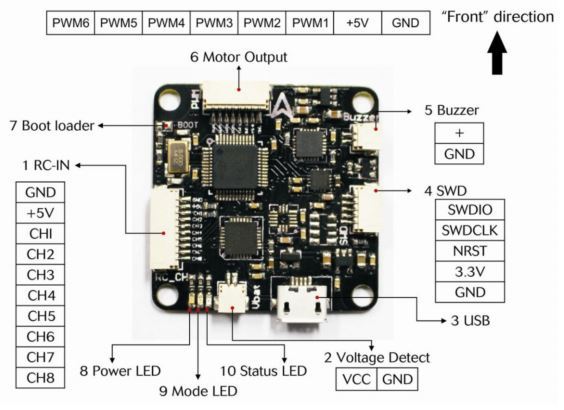 Motor Connection
Below is the well-known picture showing how to connect your motors to your frame when using the Skyline 32 flight controller (i.e. when using CleanFlight). Be sure to connect your motors in the way outlined below when using the Skyline 32.
USB Driver Installation
You must install the CP2102 program driver before you try any firmware updates or configuration. You will need to download and install this driver before continuing with any upgrades or configuration.