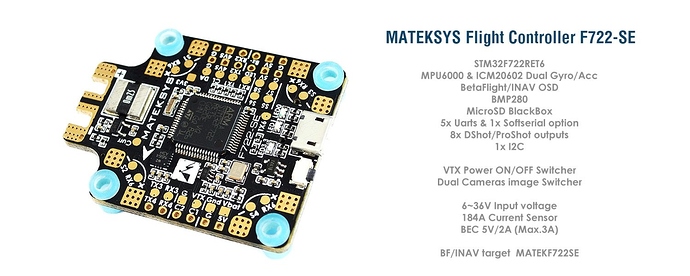 We will soon have the new matek FC in stock and added to our site, but just wanted to share abit about it as it actually has a few new features over the 100's of other FC options. I am sure @DoomedFPV will like this one as he is a matek fanboy

It has dual imu like many other f7 flight controllers, and all the usual excessive number of connection pads familiar other matek FC.
But there are a couple cool features. Like 8 dshot outputs… octa FPV drone anyone? It also has the ability to turn your vtx on and off via the FC… super useful. Another interesting feature is the built in camera input switch, so you can use two FPV cameras on your drone… Maybe one for your main fpv, and then a backup from your hd camera. Maybe not super useful for quads, but fixed wings may have more use… still a fun thing to have.