Well the dislike and frustration of Diatone products continues to build. This time with the Mamba F405 Flight Controller.
I've wired it up to a Frsky R-XSR receiver which is bound to my Taranis X9D+ (works ok)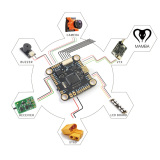 As you can see from the above diagrams it connects to the PPM.
Betaflight is set up as an SBUS receiver but I get zero signals from said receiver to the quad.
Anybody else had experience with this flight controller and wiring it up to an SBUS receiver? Or can anyone suggest an approach for diagnosing the issue?
Thanks in advance

Bigger picture here: https://www.diatoneusa.com/store/p590/Mamba_F405_Flight_Controller_Betaflight_STM32_MPU6000_OSD_Built-in_5V/2A_BEC.html