This review is from my point of view I'm not a sponsored or professional pilot in any way just look at my flight videos.
I'm just an average flyer giving my opinion on these motors.
I'm comparing the Emax LS2207 2400kv motors to my old Emax 2205 2300kv red bottoms.
These motors may be old and well used but like most people out there I fly what I have and what's in my price range. I would rather buy and wreck cheaper hardware that flies well. Then spend a small fortune (well we all do in the end) on something shiny and then bounce my quad of a tree two weeks later and be down for longer.
These motors come into my price range nicely at less than £17 each.
Your not having fun unless you in the air.
My first thought when I flew these motors was……… damn that gap is coming up fast!
I swear on my first pack I nearly hit every branch and every post in my flying spot.
So let's begin with the review.
Below is a couple of points I think is worth mentioning beside the normal stuff you can read from the datasheets posted all over the internet…. And below.



1. Weight.
They may not be the lightest motor out there.
I weighted mine at 36g with the full length of the 18AWG Silicone wire.
After I'd cut them down to length there weight had reduced to 33g.
This new 18AWG Silicone wire is really nice to work with. Good quality strands make up the wire itself and the silicone outer sheaf is easy to cut. The wire is really flexible as well making it easy to work with.
2. Motor base.
I have the motors soft mounted on my frame with only two screws securing the motors.
Thread lock is a must here I think.
They come with screws for 3mm and 4mm base plates.
With the hole bottom missing it makes it easier to see if you have any screws too long and touching your windings.
I've notice without the motor base to fix in the wiring in place there is glue on my bottom of the windings to give support and maybe offer some protection to the exposed winding as the same time.
I haven't had to clean them yet but some compressed air and toothbrush should work nicely.
3. Shaft and bell.
The motor shaft and bell are held in place with a screw. No more C clips to lose.
Emax haven't gone for a hollow shaft but a Aluminum shaft with hardened steel core for strength and durability.
I like the shorter shaft it has a nice flushed looked when the prop and prop nut on are makes for a slightly lower profile and nicer look.
The air gaps in the top of the bell are a good size plenty of air flow plus you can see all the windings this should make the motor easier to clean if you don't want to take the bell off.
Overall these motors look to be well built the new design on the bell should offer some improvements of strength but only time and crashes will tell.


Flight review.
Quad setups - does anyone else name there quads?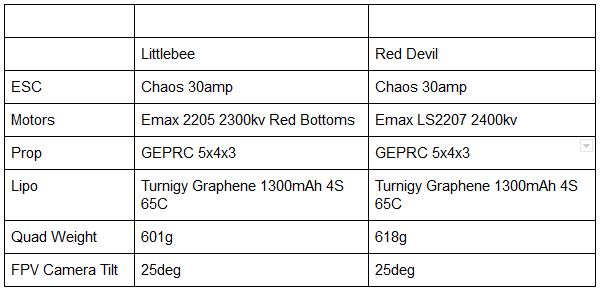 The Plan.
I flew the same route 3 times with both quads then added a bit of freestyle with a punch out or two and a 50 meter full throttle dash twice.
The idea was a flight route that could be repeated to give an average flight time.
Average flight times.
Littlebee (2205 2300kv) averaged a 3min flight time.
Red Devil (2207 2400kv) averaged a 2:30min flight time.
I expected a different with flight time and 2:30min after all they are bigger motors. I think it's still a good time. I did manage a 3min flight with a few less punch outs.
With Red Devil I have an OSD and was pulling about 800-900mah out of the packs before coming into land.
Max amps pulled during the flights was 85 amps.
I would expect this to go with more egressive pitched props.
The motors sound clean and smooth and aren't as notchie as I was expecting.
I did notice I seem to be flying faster with less throttle without changing my camera tilt.
Update: 01/02/2018
Crash test:
The plan today was to fly my review route three times without crashing to finish off my review video… Crashed head on into a tree on my first pack
snapped all four standoffs,
unstuck my buzzer,
popped an ESC solder joint.
Not what I had in mind.
Motors looked to be undamaged.
Update: 05/02/2018
All flight videos have now been recorded.
3x flight videos on the Emax 2205 2300kv
3x flight videos on the Emax LS2207 2400kv
Still working on the finial review video.
(Video's will be linked below)
These motors are really smooth and the just keep piling on the speed. The thrust seemsto have a very linear feel across the whole throttle range.
With these new motors I find myself having to learn to fly faster. There is a really big difference in speed when compared to my old Emax motors.
So far I've only had one crash but the motors held up fine.
To todate I've only put 15 packs through the motors and without a doubt at some point when I refit my backup quad it will be with these motors.
In Summary for this worded review.
These motors look to be a solid choice. They perform well and don't suck the life out you lipos.
They sit at a very good price point that will make them appeal to a lot of flyers.
*** Update: 20 Feb 2018 ***
All review videos are finished and upload to YouTube:
Main Video:
Flight Videos: