I have been doing some work on making a mount for the FY-G3 brushless gimbal to fit onto the Iris Quadcopter The great thing about the quadcopter and the gimbal is that they work right out of the box!
First off the video from the first flight.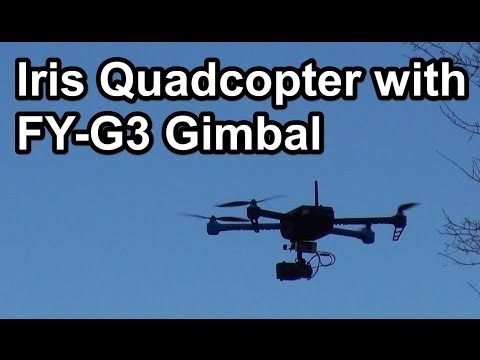 I had to do some slight modifications to get it to work such as adding longer legs hack, and also make a mount for the gimbal to fit onto the Iris.
Longer Landing legs
The Iris comes with the standard short legs, and a gopro mount to fit a camera just in front of it, but since I wanted to keep the COG closer to the middle I wanted to mount the FY-G3 brushless gimbal underneath the Iris. So I needed to make some longer landing legs so that I could land and takeoff easily. (There should be some plastic longer legs released soon)
A simple dovetail joint was 3D printed with mounting holes for these arducopter legs.
Brushless Gimbal Mount
The FY G3 gimbal comes with boom mounts by default, and I wanted to look for a non invasive way to mount the gimbal to the Iris quacopter. So I 3D printed a simple mount that attaches to the gopro mount of the Iris, and then clips onto the air vents on the back.
Next up to to perhaps clean up the wiring between the battery and the gimbal, but for testing I just used a spare cable that I had which was abit long as you can see below.

If you have any questions, please let me know.