Alexander Fedorov, KISS developer, has confirmed on Facebook that he is working on support for the DJI HD FPV system - much to the surprise of many who, though only speculating, assumed that the support may never come.
To my personal delight, and the delight of at least 3 other people I'm aware of (and I'm sure many, many others), those aforementioned many people were wrong - and a Developer build of the KISS firmware can be obtained via the man himself (Alexander) on Facebook: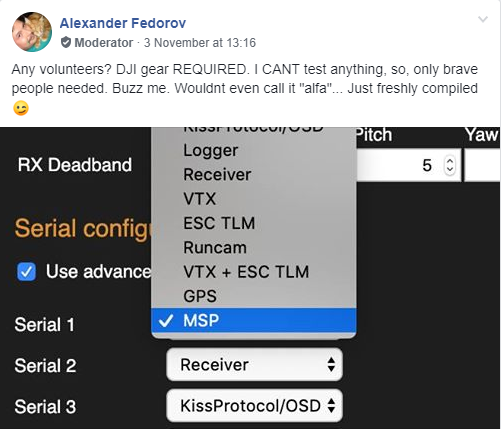 In Alexander's post, you can see MSP support added as a UART protocol, allowing support of the DJI system. Time will tell if it makes it to a stable release, but results so far have been promising, and finally the enlightened can enter the holy grail of FPV that is KISS with HD FPV!
Are you a KISS fanboy like me, and, if so, whaddaya think of the DJI support - do you care? If you aren't a KISS fanboy - why not?
Have a good one all!