In this guide we will discuss all the important things you need to know about using your LiPo battery charger. Investing in a a decent charger is a good idea as its something you will use often.
You cant just use any battery charger with your lithium polymer batteries as you need to use a LiPo compatible charger. This is due to the fact that these batteries have several cells that have a very specific voltage range. To learn more about this check out our other guide to learn the basics of lipo batteries. If you use a regular charger with a lipo battery you will end up causing your lipo to explode into a ball of flames

, so dont do that (unless making a cool video on youtube in a controlled environment!)
---
Best LiPo Charger
To find out about the best lipo chargers we suggest, head over to our blog article:
http://blog.dronetrest.com/the-best-lipo-battery-charger-for-your-drone/
Our original suggestions are below, but is now mainly outdated:
[details=Summary]For the best overall we currently suggest the imax B6 mini charger Here are a few suggestions that you can consider depending on your needs. At unmanned tech we have tested several chargers from various manufacturers and feel that this one is the best when you consider performance, usability and price.
Ultimate LiPo charger

The
iMax B6 mini
is our favorite charger and is the only charger you will ever really need as it is able to support all the main LiPo batteries from 2S to 6S. The other great thing about the B6 mini is its compact size so it does not take up much room at all in your toolbox. Using a more advanced charger like this ones gives you extra features that include the ability to discharge your lipo to storage mode and it also has the ability to charge other types of batteries too. However the two features that make this unit stand out from the rest is the options to add a wifi module so you set and monitor your charge from your smartphone via wifi. A temperature sensor can be attached to your battery for added safety so that your charger will stop charging if your battery gets too hot.
Everyday basic LiPo charger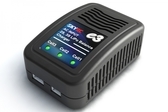 If you are looking for something cheap and basic to get the job done the SkyRC E3 is our recommendation. It is priced to be very affordable but unlike some of the cheaper alternatives you dont have to worry about it incorrectly charging your lipos. I personally enjoy using these chargers as you dont need to set anything up, just plug in your balance lead and it will start charging. No need to specify the cell count, charge rate or set any other functions. The E3 charger can charge 2S, or 3S lipo batteries but if you want the ability to also charge up to 4S batteries you can also consider the SkyRC E4 charger. You will hardly ever come across higher cell count lipos unless fling more professional level drones so the E4 will undoubtedly be perfect for hobby level flying.[/details]
---
Battery charging rules
Its important to take note of these rules when charging your lipo battery
Never charge your battery unattended - from time to time check to see if your battery is getting warm to the touch or starts to sewll, if so stop charging immediately and contact an expert immediately (like someone on dronetrest) before using the battery again.
Never charge a damaged battery - dont charge if it is swollen (puffy) or has any other visible signs of damage
Always charge your battery at 1C or less - many chargers allow you to set a charging rate, although most batteries can support up to 5C charge rates (which makes charging your battery much faster). Its always best to charge at 1C or less as this means the chemicals inside your battery will gain energy slower which keeps them more stable and ultimately means your battery will have a much longer life in terms of charge/discharge cycles.
Try to charge your batteries in a fireproof location, or in a lipo safe bag. - this just adds an extra layer of protection
Ensure the number of cells and battery type are set correctly on your charger to match the cell count in your battery. - this is only applicable for more advanced chargers.
---
Some things to consider when buying a charger
There are a few important specifications you should look at before buying a lipo battery charger.
Balance Charging
99% of Lipo chargers have the ability to perform balance charging. This process will check the voltages of each individual cell in your battery and ensure they all have the same voltage. This is a critical factory to monitor as if one of the cells voltage increases or drops below the required voltage range the battery could get damaged, or worse, catch fire!. Fortunately, as I mentioned basically all chargers have this ability.
an example of a battery connected to a balance charger
If you need to plug in the balance leads from your battery to you chargers, its a good indication that your charger has the balance function. If you just connect the main connector to your charger, then your charger does not have the balance function. When using the main lead your charger is only able to read the overall voltage of your battery and not the individual cells so its critical that you check these with a volt meter, or battery monitor to avoid any potential issues with you battery. You can also purchase separate battery balancers to ensure the voltages of each cell are correct, but these are very uncommon nowadays.
Some chargers like the one included with the DJI Phantom 3 many not appear to be a balance charger, but that is because the phantom 3 battery actually has a built in battery monitor and balancer built into it.
Cell compatibility
When buying a charger you should consider what LiPo batteries it can support. Some very cheap lipo chargers will only support 2S or 3S lipos, where the fanciers ones will be able to support the full range from 1S to 6S. Other higher end chargers are also able to balance charge more than one LiPo at the same time.
Charging current
Most batteries specificy a maximum charge rate as 1C, 2C etc… however most chargers you specifiy the charge rate in Amps, so sometimes there is confusion between these two values. To convert your battery C charge rate to Amps you simply need to multiply the battery capacity by the C rating. So lets say we have a 2200mAh battery with a charge rate of 2C. So the maximum current we can charge this battery at is 2.2Ah x 2 = 4.4A. Similarly lets say we want to charge a 5100mAh battery at 1C, the max current we will need to set on our charger is 5.1Ah x 1 = 5.1A. The maximum current you can for your charger depends on the power output it is cable of as described in the next section.
Power Output
All batteries have a certain power output level, defined in Watts, typically around 50W. This number represents how much power the charger can provide to your battery, ultimately the larger this is, the faster it can charge your battery. Watts are the product of current and voltage, so if you keep current constant (say at the recommended 1C value) you will use more power with higher voltage (bigger cell count) batteries. So having more power available it better. Lets look an example, if we want to charge a 3S 2200mAh battery at 1C we will need to use 12.6V x 2.2A = 27.72W. If we want to charge a 3S 5100mAh battery at 1C we will use 12.6V x 5.1A = 64.26W which is actually a little over the standard power rating for chargers. So we an only charge our 5100mAh battery at 50W/12.6V = 3.6A assuming we have a 50W charger.
Power Supply
Some batteries include a built in power supply so you dont need to worry about this. But if your battery does not include a power supply you will need to make sure that the one you buy will match your charger in terms of specifications and also the connector is the same. At Unmanned Tech we have the option to add a compatible power supply on most of our chargers.
However the most important thing is to ensure that the power supply has the correct power (Watts). So if using a 50W charger, you will need to make sure your power supply will be able to provide at least 50W of power to the charger, however getting something a little over is best such as a 60W power supply.
a 60W power supply is the most common type of power supply you will need for your charger
---
The process of charging a battery
Although each brand of charger might have different features, I will discuss the main ones that are shared with all Lipo chargers so you can have a basic idea of how to use them. For full details its best to read the documentation included with your charger. Some simple chargers just require you to connect them and it will start charging automatically.
Plug in the charge and balance leads between your charger and battery.
Select the appropriate LiPo balance charge mode on your charger.
Select the appropriate cell count voltage and charge rate (1C recommended) (as discussed previously).
Start the process and make sure you dont leave it unattended during the charge process
In terms of the technical details of charging most chargers follow a two set process. The first process (constant current) is when a constant current is applied (at the rate you specified) and keeps that current flowing into the battery until a certain voltage is reached. After this threshold the charger will switch to constant voltage mode where the charger will vary the current to make sure all of the cells have the same voltage (the balancing step). As the cells get close to the maximum charge of 4.2V the current will drop slower until eventually stopping at 4.2V per cell
Fast Charge
Some chargers have a fast charge feature which in my opinion is more of a gimmick than a useful feature. Fast charge allows you to save abit of time when charging your battery as it will skip the balancing step. In fast charge mode the charger will only look at the overall voltage of your battery and will stop slightly below the maximum charge for safety reasons (as the battery might not of been perfectly balanced at the start of the charge). This is only usefull if you want to get flying int he air, but in reality this does not save much time over a proper balance charge so to get the most life out of your batteries its best to always use the balance charge.
Battery Storage
Another useful feature that some chargers have is the Lipo storage mode. If you remember from your Lipo battery guide, its best to store your battery at about 40% to 50% charge. So the storage mode on your charger will automatically charge/discharge your lipo to this range in each cell so you can safely store your battery when you are not going to flying for a while.
What I normally do is after a flight, if I know I am not going to fly for a few days I will use the storage mode on my charger to half charge the batteries. Then when I know I am going to fly again I will fully charge the batteries before heading out to go flying.
---
Other usefull equipment
Here are complementary equipment that you should have in your drone toolkit.
Battery Monitor/Alarm
A battery monitor is nice and cheap device that you plug into the balance leads of your battery. They are set to beep when the voltage of your battery gets low so you know to come and land. But some like the battery alarm pictured below include a display that will show you the voltages of each individual cell, as well as the overall voltage of your battery which makes it a very quick and convenient way to check your battery voltage before going out to fly.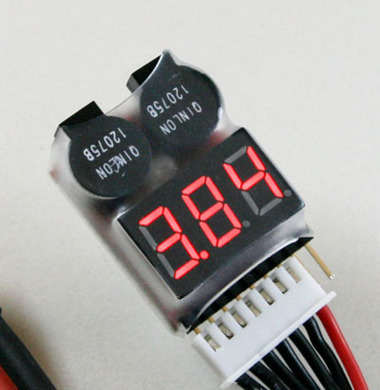 Digital Multimeter
Since most drones are electronic devices, having a multimeter is a great resource to help debug problems etc… They are actually not that confusing to work and its a great resource is check your battery cell voltages, and testing for cold solder joints. If you are not sure how to use one, check out the video in our how to use a multimeter guide
Lipo Safe bag
These are fireproof bags that you can use to safely store and transport your batteries. Always better to keep things safe
---
Any questions or comments?
I hope that you found this guide of some value, but if you have any questions just ask them below and I will be happy to try and help :-).