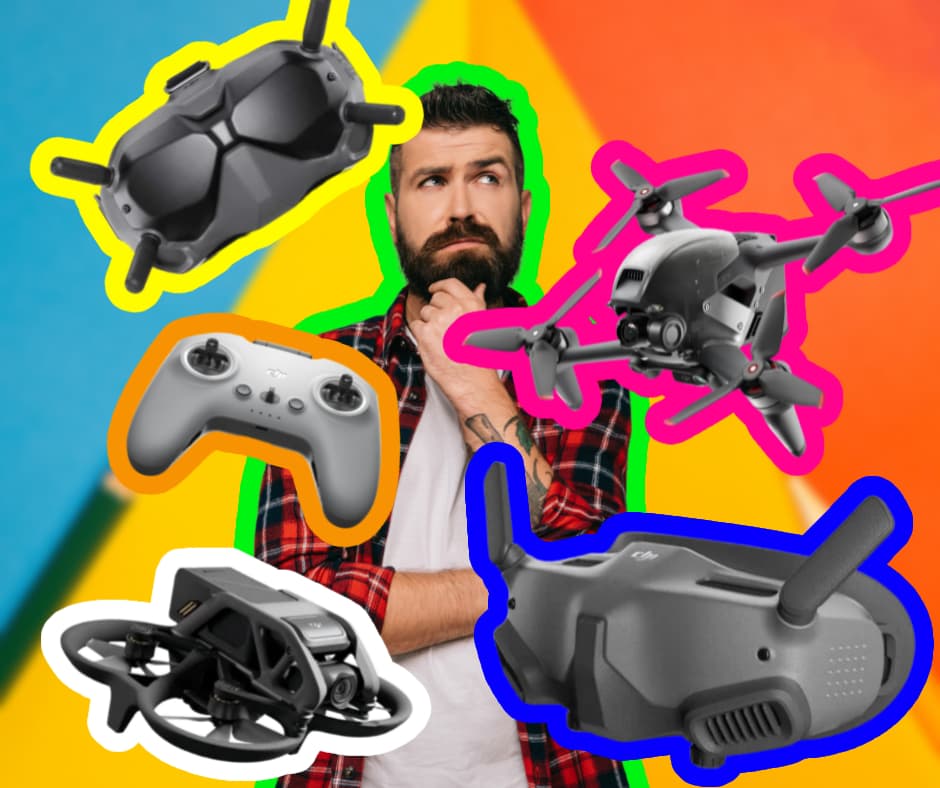 If you're new to the world of FPV drones or looking to upgrade your current setup, navigating the range of DJI FPV products can be overwhelming. Which components are compatible with each other? Do you lose certain features by mixing and matching? And what's the best combination for your needs? In this article, we'll break down the DJI FPV components and help you understand what works with what.
Introduction: Cutting Through the Confusion
DJI has a wide range of products for the FPV market, but the sheer number of options and configurations can make it difficult to know what to buy. And with different generations of components, it's not always clear which ones are compatible. But don't worry – in this video, we'll cut through the confusion and give you the information you need to make an informed purchase. So whether you're looking for the best image quality, the lightest weight, or the most features, we've got you covered.
TL:DR - DJI FPV Compatibility Table
DJI has been working hard and as of Dec 2022 the latest firmware release essentially make the newer systems backwards compatible. While the backwards compability works there are still some limitations, for example if you are using the older Gogggles V2 with the O3 Air unit, you cant stream the video at the full 1080p resolution unless you have the newer Goggles 2.
| Product | DJI Avata | DJI FPV Drone | DJI O3 | DJI Air Unit V1/ Caddx Vista |
| --- | --- | --- | --- | --- |
| DJI Goggles V1 | No | No | No | Yes |
| DJI Goggles V2 | Yes | Yes | Yes (lower res) | Yes (firmware after Dec 2022) |
| DJI Goggles 2 | Yes | Yes | Yes | Yes |
| DJI FPV Remote 2 | Yes | Yes | Yes | Yes (firmware after Dec 2022) |
| DJI Motion Controller | Yes | Yes | No | No |
DJI FPV System Generations 1 and 2
Alrighty, let's break down these DJI FPV components into two generations! And the key difference you need to pay attention to is image quality. The first-gen DJI HD FPV system can stream FPV video in 720p at 120 frames per second, which is pretty good. But the newer 2nd-gen FPV system can stream in full 1080p at 100fps – talk about crispy video! So if you're all about that high-def life, the 2nd-gen system is the way to go.
The First Generation: Goggles V1, Goggles V2, Air Unit, Caddx Vista, Remote Controller V1, and DJI FPV Drone
Let's start with the first generation of DJI FPV components: the Goggles V1/V2, the original Air Unit, and the original DJI Controller. The Goggles V1 have now been replaced by an upgraded version called Goggles V2, which look the same and have some slight upgrades. These were released along with the DJI FPV drone and run on the same first generation DJI FPV system.
The FPV Drone is DJI's first drone designed specifically for FPV flying, with high-speed performance and advanced safety features. And the KMD Motion Controller provides a unique and intuitive way to control your drone.
While these products are no longer the latest and greatest, they can still work together seamlessly without the need for any extra equipment. That's because they were designed from the start to work together. So if you're looking for a budget option or want to upgrade your existing setup, these first-gen components are a good place to start.
DJI Air Unit VS Caddx Vista
About a year after the DJI Air Unit release, Caddx released the Vista, a mini air unit, here are some of the key differences
Some of the main differences between them are:
Size and weight: The Caddx Vista is smaller (30x29x13mm) and lighter (19g) than the DJI Air Unit (44x37.8x14.4mm, 45.8g)
Power output: The Caddx Vista has a maximum power output of 700mW, while the DJI Air Unit has a maximum power output of 1200mW. This means that the DJI Air Unit can provide longer range and better signal penetration than the Caddx Vista, but also generates more heat and consumes more battery power.
Input voltage: The Caddx Vista supports up to 6S batteries (25.2V), while the DJI Air Unit only supports up to 4S batteries (16.8V). This gives more flexibility for choosing different battery voltages for different drone setups.
DVR recording: The DJI Air Unit has a built-in DVR that can record HD video on a micro SD card, while the Caddx Vista does not have this feature. However, you can record video from both systems on your DJI FPV goggles.
But what about their limitations? The Goggles V1/V2, for example, have a lower resolution and field of view than the newer Goggles 2. And the original Air Unit is heavier than the newer O3 Air Unit. However, if image quality and weight aren't your top priorities, these first-gen components can still provide a great flying experience at 720p resolution and 120 frames per second.
The Second Generation: Goggles 2, Avata, and More
Moving on to the second generation of DJI FPV components, we have the Goggles 2, the DJI Avata, the Motion Controller, the Remote Controller 2, the O3 Air Unit. These components were all designed to work together, and use the newer 2nd generation system that can stream full HD 1080p video at 100fps.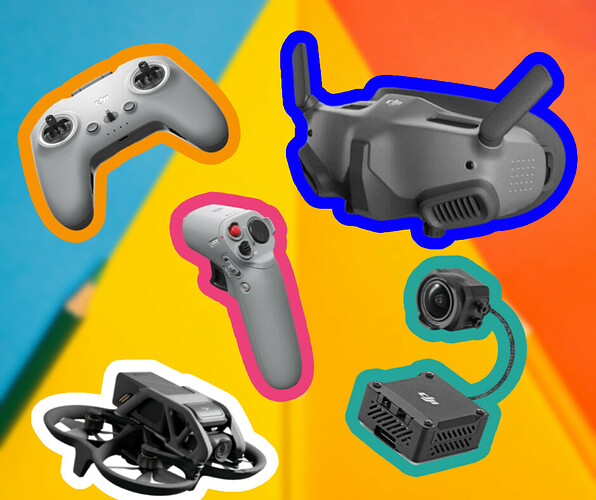 So what's the advantage of this second-gen lineup? The Goggles 2 have a higher resolution and field of view than the V1/V2 goggles, and they're also lighter and more comfortable to wear. The DJI Avata is an amazing drone that is the first to use the new second generation DJI FPV system. This small drone packs a punch with its 4K/60fps camera and 155° field of view, providing an immersive first-person view experience. And with built-in propeller guards that allow it to bounce back from collisions and the ability to support motion control by hand or head movements, it's a pretty nifty piece of equipment. Plus, with HorizonSteady and RockSteady stabilization, the video footage is super smooth!
However, if you already have first-gen components and don't want to upgrade everything, you'll need to be careful about which second-gen components you choose (see our product compatibility table). For example, the Goggles V2 can work with both the first-gen Air Unit and the O3 Air Unit, but the Motion Controller only works with the Avata. However, DJI have been making firmware updates that add more backwards compatibility. So if you're looking to mix and match, you'll need to do some research and make sure everything is compatible.
Goggles V2 and Goggles 2?
Its some slightly confusion naming convention here, but the Goggles V2 are the older goggles that use the first generation FPV system, while the Goggles 2 are the newer system that are fully compatible with the second generation DJI FPV system.
DJI's Compatibility Choices: Good or Bad?
I drafted this article as there are lots of contradicting videos and articles about DJI compatibility, many of them are out of date. As of December 2022, the second gen DJI FPV gear is all backwards compatible with most of the first gen FPV gear (see the table above). There are some specific limitations but in general if you have some first gen DJI gear such as the Goggles V2, you can still incrementally upgrade your fleet now to say use the DJI O3, and then upgrade your goggles to the Goggles 2 at a later date.
Conclusion: Making the Right Choice
So what's the best combination of DJI FPV components for your needs? That depends on a variety of factors, including your budget, your flying style, and your desired features. But by understanding the differences between the first-gen and second-gen components, and by researching which ones are compatible with each other, you can make an informed decision that will provide the best possible flying experience.
Whether you're a seasoned FPV pilot or just starting out, DJI has a range of products that can meet your needs. From the Goggles V1 to the O3 Air Unit to the DJI Goggles 2, there's a component for every budget and every flying style. And by understanding how they all work together, you can build a setup that will give you the best possible experience. So go ahead and explore the world of DJI FPV – and happy flying!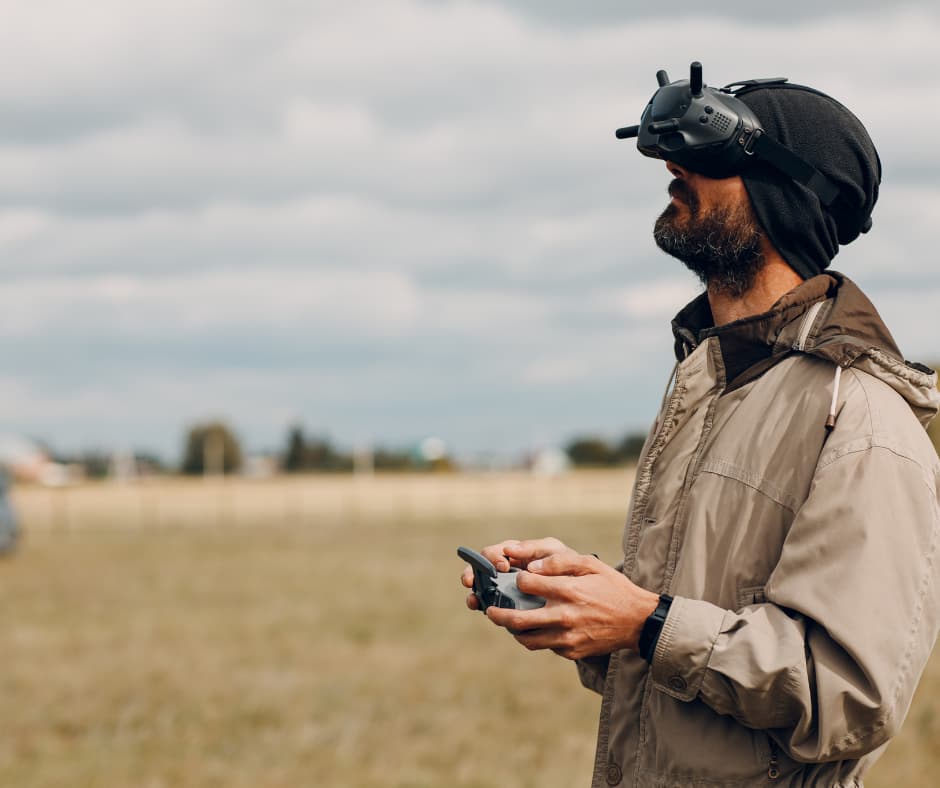 Where To Buy