Initially posted at http://diydrones.com/profiles/blogs/pxfmini-an-open-autopilot-shield-for-the-raspberry-pi-zero: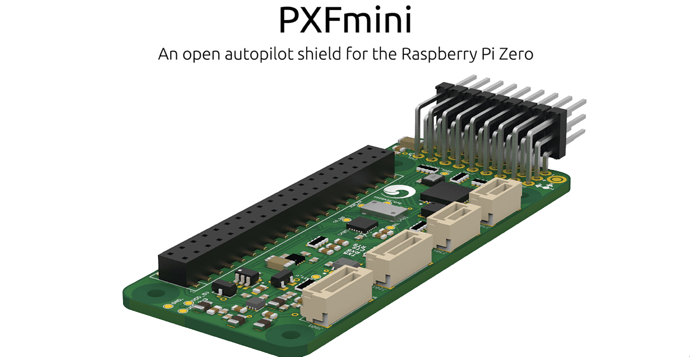 I'm happy to announce the PXFmini, an open autopilot shield for the Raspberry Pi. This autopilot shield allows anyone to create ready-to-fly autopilots with support for Dronecode's APM flight stack priced at only 69 €. The shield has been designed with low cost in mind and specially for the Raspbery Pi Zero (it is also compatible with other Raspberry Pi boards). Find below some of its features:
A tiny yet powerful design
The PXFmini shield weighs only 15 grams and on it's 31mm x 71 mm embeds all the power electronics necessary to comply with most of the existing components for drones using its 2xI2C and UART ports.
The design is based on previous iterations with proper APM upstream support and provides 8 PWM output channels as well as a PPMSUM input.
A shield for sensing
PXFmini includes a 9 axes IMU (MPU9250), a digital barometer (MS5611) and an ADC for voltage measurements.
An improved experience
Forget about breaking those DF13 connectors. We've decided to bet on the new JST GH connectors (adopted by the Dronecode Foundation) to provide an amazing new experience. We've also partnered with manufacturers to provide DF13 to JST GH converters.
Open design
All the schematics are open for you to hack around. They'll be released as soon as the boards start shipping. Shipping will start in early February 2016.
We made a short clip closing the year where we show the board:
https://www.youtube.com/watch?v=tXZb2gN9SEg