Hello
I have an Omnibus Corners F4 FC and I think that I have blown a part of it up.
Pretty certain actually as I saw the smoke coming off the board.
At the time I thought that it would be OK because it all still seemed to communicate with Betaflight and I could get the motors to spin up via the computer interface.
However — that is where I have stayed for the last week or so as I struggled to try to make the motors turn using the transmitter — they are VERY stubborn and have a total lack of regard for authority — mine anyway.
The part that is blown is the little surface mounted diode near the USB port. D2
https://img.banggood.com/file/products/20171004041036OMNIBUS%20F4%20Pro%20Corner%20Manual.pdf
If you look at the diagram on page 2, just beneath the top left corner of the board where it says M4, and then look just below that at the USB port, and then just to the top right of that is the diode that has blown (Part D2). Another dead giveaway is the big red arrow pointing to the part that is blown.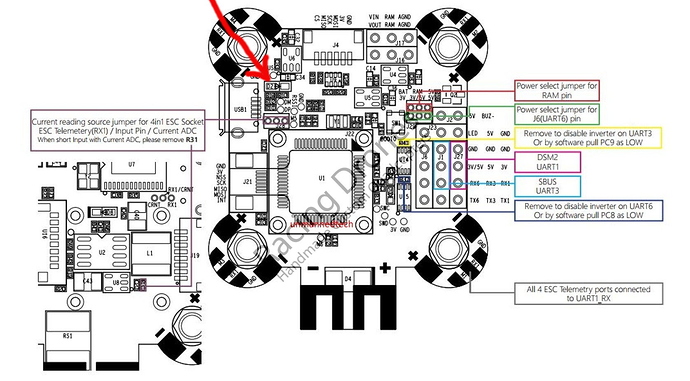 Does anyone know if it would be OK to just remove that part and solder a small signal diode in there instead? Say a 1N4148
I could maybe solder a surface mount part, but they are just so tiny that I have trouble seeing them.
PS Assuming that it is OK to use the diode, which way round would it go?