If you dont feel like reading here is the promo video
https://www.youtube.com/watch?v=1U9lyMFtyqg
So if you are looing for a ready to fly hexacopter for aerial videos then the H500 seems like a great system especialy if walkera follow similar pricing convention to the X350 Pro (although given they they are using the term pro level, usualy means pro prices
). The most impressive part seems to be the DEVO F12E radio system that comes with this as it has a proper size FPV screen built in.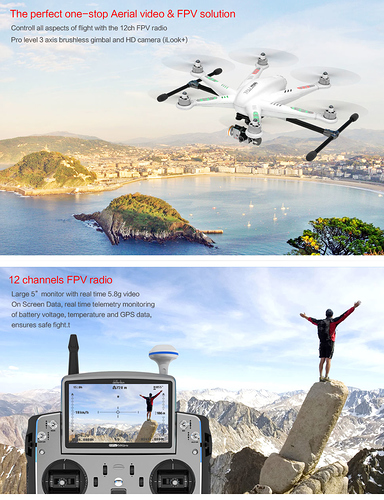 https://www.youtube.com/watch?v=8P92ZhjR1oA
Overall the H500 is a X350 Pro with 2 extra motors, a 3 axis gopro gimbal and not to mention foldable legs to make full use of the 3rd axis on the gimbal! It also has a built in battery incidator, great if you need to see your battery level if you are at the field, this is probably inspired by Phantom Vision 2. I think this hexacopter seems like a promising produce, especially since the Walkera Devo M flight controller seems to be running a version of arducopter
Integrated smart battery
It seems that here they have copied DJI in terms of offering a plug in battery that shows you the battery capacity remaining. Its nice as its super easy to plug in and change, but the disadvantage is you need to buy official batteries from walkera, but that is not too bad since this 6s 5400mah battery pack will cost around $140 which is similar to the price for regular 5400mzh 6s lipos.

Finally here is some test video from the TALI H500 and the 3 axis gopro gimbal