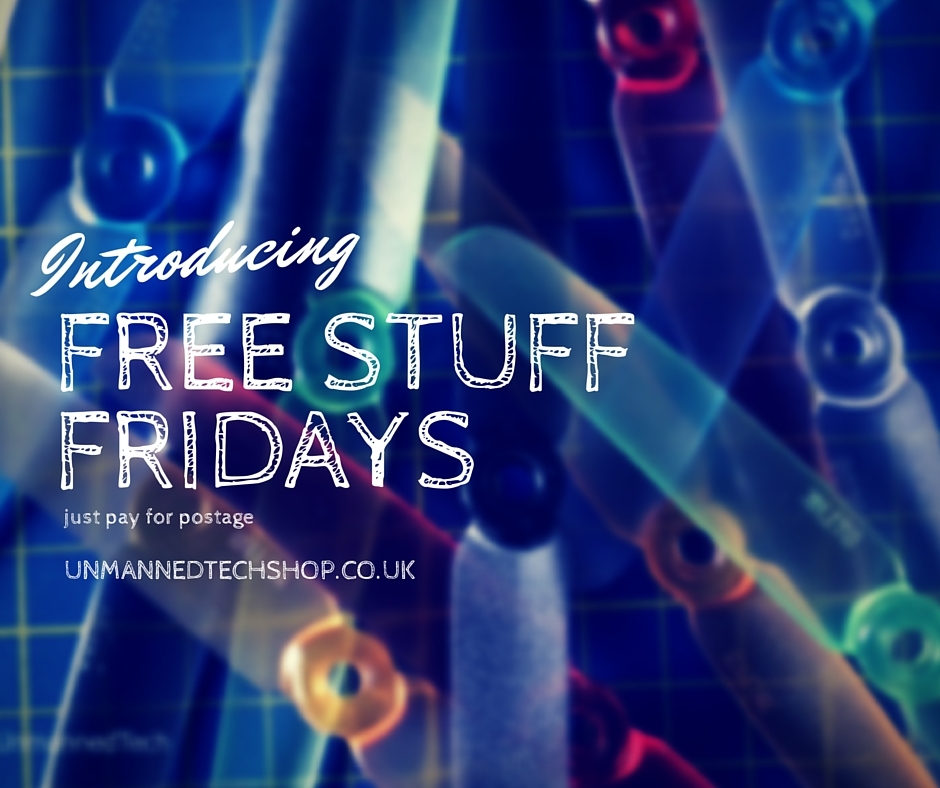 We (Unmanned Tech) are launching free stuff fridays where they are giving away a limited quantity of a certain product for free on occasional Fridays (starting tomorrow 20/11/2015)! These items will mostly consist of small 3D printed items that we find useful for your UAV. You are only asked to pay for postage. You can order the free item on its own, or as part of an order for some other dronegear from our shop.
How often will you be doing this?
The idea is to do this each week, but there is currently no fixed schedule for which Fridays we will be releasing these free products. Ultimately it will depend on how hard and how long something takes to print, as you can imagine printing over 100pc of something is not exactly that fast on a 3D printer. Once we have printed enough items we will launch the free stuff friday for that particular product. So keep an eye on this post for announcements. However the offer will always go live on a Friday. We will always update this post a few days before and so you can bet ready for the promotion. Also you can track this topic (but changing the settings at the bottom of this topic) to get any updates sent directly to your email inbox.
But be quick, we only have a certain number we'll be offering and so first come first serve! Good luck!
Free Stuff Friday Products
Why are we doing this?
We have a couple of 3D printers that we only use occasionally to prototype new products, or we use them on custom builds. So we had a great idea to put them to better use to help all of you in the drone hobby space. So when we find a cool design on thingiverse or design something that we find useful we will make a bunch of them and give them away. Usually you will be limited to about 2 of each item to justify the postage fee. But the idea is that you can keep one for yourself and share the second item with a fellow UAV pilot.
Is it really free if I need to pay for postage?
We are not charging for the actual product, but we could not convince royal mail to sent the item for free. However you can combine the free product with regular orders to absorb the shipping fee. Also if you already have a free shipping coupon, or your order is over £100 you will not need to pay for postage.
Have any suggestions - what product would you like?
If there is something small that you have designed or found something cool on thingiverse, just let us know! If we do choose your suggestion we will send one to you for free. Since we are printing the items on demand we dont want it to be too big or else we cant give away that many.