ave you ever wondered what a robot brain would look like? To curb their curiosity, the makers at Erle Robotics decided to create their own. Erle-brain is a device that makes constructing air robotics easier than ever before.
Erle-brain is an open source hardware Linux autopilot for making drones. As the name implies, it acts as the drone's brain. This is the device that gives drones the ability to fly both manually and automatically. Not only does it handle the flying issues; Erle-brain runs on the Robot Operative System (ROS) and consists of a BeagleBone Black and a PixHawk Fire Cape. The brain also comes with a Debian image flashed and the latest ready-to-fly code.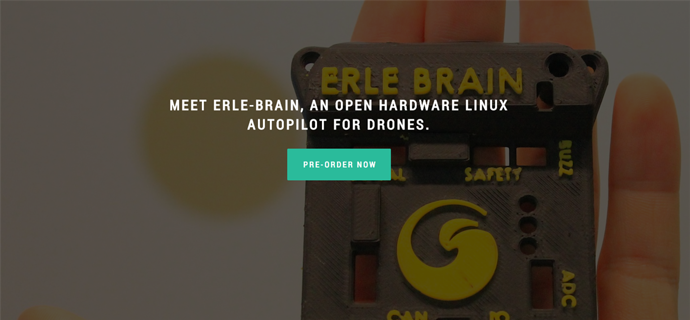 Erle Robotics has been involved in several projects with BeagleBoard over the past several years. The company is passionate about robotics and has long wanted to create a robotics brain. They knew the TI Sitara AM335x processor-powered-BeagleBone Black first hand and were aware of the potential of this tiny embedded computer for robotics. The BeagleBoard.org community and boards offered just what the team needed to build the platform.
The PixHawk Fire Cape is a daughter board for BeagleBone Black, which is what is used to create a fully functional Linux autopilot for drones. By combining a PixHawk Fire Cape and a BeagleBoneBlack, Erle Robotics has developed a robotics brain that can be used not only in drones, but also copters, planes and rovers.
Other main characteristics of Erle-brain are:
Debian Wheezy 7.5
ROS Hydro Medusa
APM 3.2-rc14
4 GB eMMC and microSD card capable
Cortex-A8 @ 1 GHz
512 MB RAM
12 PWM outputs
RC Input using either PPM-SUM or S.Bus
1 USB Host, 1 UART, 3 I2C, Buzzer connector, Failsafe connector
After working out all of the glitches during the creation process to make sure the sensors were coded and it had the smallest maximum latencies, Erle-brain is now available and ready to use. In the future, Erle Robotics is planning to launch two new vehicles, Erle-rover and Erle-plane which will both use Erle-brain.
Check out the Erle-copter, a Linux-based copter that uses Erle-brain, available for purchase now.
For more information about the Erle-Brain and other robotics hardware, visit http://erlerobotics.com.